Kenneth Donald, Personal Trainer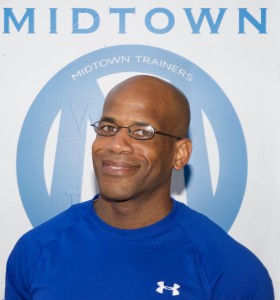 During his 11 years in the Air Force as a Fitness Instructor, Ken worked as a personal trainer and bootcamp instructor in a variety of fitness centers across North America and regions abroad; training elite U.S. forces, average Joes and those who have never worked out a day in their life. Ken has a passion for proving people wrong when they say or think that they "CAN'T". It is his greatest desire to help you achieve new heights and exceed old limits. Ken guarantees an awesome kick-ass workout that will leave you with an amazing feeling of accomplishment and have you coming back for more!
Ken's dedication to ensuring each member reaches their personal fitness goals, along with his own health challenges like fatigue, weight gain, hormonal imbalances, and digestive issues, propelled Ken to become a Certified Personal Trainer and Nutritionist. He now shares his knowledge to inspire others to find creativity in the kitchen, and cleverly cook using whole food ingredients.
He will put you through your paces and make you challenge yourself, while at the same time making sure you have a lot of fun doing it. Ken couples his tactical training skills with his extensive knowledge of health and fitness to bring you one of the most fun, intense, challenging and rewarding training systems in the fitness industry. So if you are serious about making a change in your life, but you are lacking motivation, then Midtown Trainers is where you need to be.